The iconic Pitons provide a stunning back-drop when arriving by sea
Luxury Yacht Charters in St Lucia
  North of Saint Vincent, and south of Martinique, Saint Lucia is a sovereign nation on the boundary with the Atlantic Ocean. The lush interior features towering mountains, dense rain forest, fertile valleys, and acres of banana plantations, although St. Lucia's landscape is most well know for the Pitons—twin peaks that soar high above the ocean floor on the southwest coast. Whether you're enjoying the sights of St. Lucia from the deck of your yacht, in the water, or on land, there is no doubt you will be captivated by your surroundings. Historic sites and lush landscapes are the backdrop to beaches suited for swimming, windsurfing, kayaking, snorkeling and scuba diving.
Cruising in St Lucia
A St. Lucia sailing itinerary has many possibilities. You could spend the entire week in St. Lucia waters enjoying leisurely sails and sojourns ashore. Or, you can combine open-water sailing with pleasant days of short passages between islands to swim, snorkel, and experience the culture and ambience of the smaller isles in the Grenadines, just south of St. Vincent.
Forming the eastern border of the Caribbean Sea, the Windward Islands' north-south orientation means the winds will be on the beam more often than not when heading south. This is ideal for fast sailing on the longer passages between some of the islands.
Yachts typically arrive into Rodney Bay, a safe and tranquil lagoon on the north side of the island. To the south lies the capital city of Castries, a bustling, historic center, and then, along the southwest coast, lie small, traditional fishing villages and Soufrière, the oldest town on the island, which is at the heart of an area of hidden beaches and old banana plantations.
What you need to know
Laderna Hotel is perfect for location for an afternoon cocktail with breath-taking views of the Pitons. Don't forget your camera!
Marigot Bay is one of the prettiest in the Caribbean and a beautiful setting in which to join your yacht. It's for this reason the bay was chosen as a set for the 1967's Musical "Doctor Dolittle".
Rodney Bay is a yachting hub with excellent marine facilities, shopping and restaurants, however it is a long 2 hour drive from the International Airport along a windy bumpy road – the west coast of St Lucia is best traveled by water.
English is St. Lucia's official language, but most St. Lucians speak Kwéyòl—a French-based Creole language—and often use it for informal conversations among themselves.
The currency of the Eastern Caribbean dollar is pegged to the U.S. dollar at a rate of EC$2.67 to US$1. U.S. currency is accepted almost everywhere on the island, but you'll get change in local currency. It's helpful to have some local currency if you plan to shop in smaller markets or ride buses.
Often referred to as "the world's only drive-in volcano," the belching mountain near Soufrière emits more gas than lava. Remember to hold your nose to protect yourself from the overpowering rotten egg smell.
Activities
St. Lucia Distillers, which produces the island's own Bounty and Chairman's Reserve rums, offers 90-minute Rhythm of Rum tours that cover the history of sugar, the background of rum, a detailed description of the distillation process, colorful displays of local architecture, a glimpse at a typical rum shop, Caribbean music, and a chance to sample the company's rums and liqueurs.
St Lucia's splendid Botanical gardens are part of Soufrière Estate, a 2,000-acre land grant presented by King Louis XIV in 1713 to three Devaux brothers from Normandy in recognition of their services to France. The estate is still owned by their descendants; Joan DuBouley Devaux maintains the gardens. Bushes and shrubs bursting with brilliant flowers grow beneath towering trees and line pathways that lead to a natural gorge.
The lush mountainous rainforests provide some of the finest hiking and bird watching in the Caribbean. Visit Mount Soufriere volcano or relax in the soothing warm waters at the Diamond Baths.
A favored first stop for those traveling St. Lucia's waters is at the Pitons. These iconic peaks rise more than 2,000 feet from the sea. Gros Piton and the smaller Petit Piton have been named a World Heritage Site and are stunning sites when arriving by sea. The Pitons make one of the most atmospheric and beautiful anchorages to stay over-night – especially on a full moon!
Just off the west coast near Rodney Bay is Pigeon Island, home of St. Lucia's Jazz Festival and a remarkable museum documenting the island's history from the Caribs, through the French and British colonial era to the present.
On the east coast of the island, visitors should not miss the Mamiku Gardens, fifteen acres of lovely winding pathways and carefully planted spaces with everything from exotic plants to medicinal herbs and banana trees.
Arguably the best beach on St. Lucia for snorkeling and diving, picturesque Anse Chastanet is a peaceful and enchanting bay nestled next to the Pitons.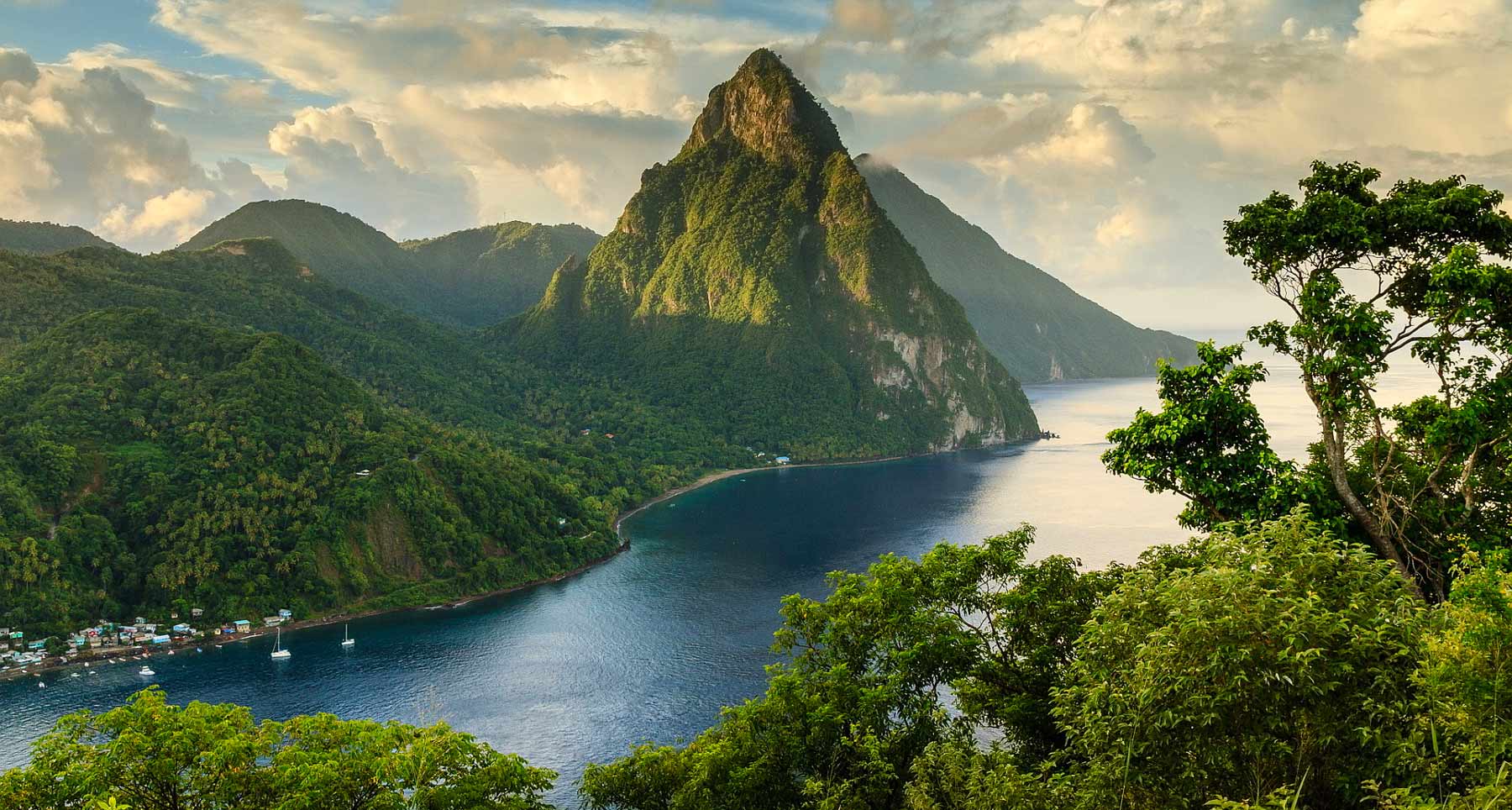 St Lucia – Yacht Charter Highlights

Breathtaking Volcanic Pitons
Lush mountainous rainforests provide some of the finest hiking and bird watching in the Caribbean

Sublime white sandy beaches
Suitable for swimming, windsurfing, kayaking, snorkeling and scuba diving.

"Rhythm of Rum"
The history of sugar and a chance to sample some wonderful rums and liqueurs

Acres of tropical gardens
Rare exotic plants and medicinal herbs in beautiful natural surroundings
 Planning Your Yacht Charter in St Lucia
A crewed yacht charter is the ultimate indulgence – for some a once in life-time experience, for others a yearly ritual exploring new locations and exciting destinations only accessible by boat. Along with the captain we'll assist in planning a comprehensive itinerary prior to your charter based on your interests and requests, as well as pointing out the "must sees" in the area.
St Lucia is within easy reach of the UK and US / Canada with daily international flights.
Contact our charter specialists and we will guide you through the booking process including assisting with airport transfers and pre charter hotel recommendations.
Choosing A Luxury Yacht & Crew
Once we have discussed your preferences in detail we will present selections of online yacht brochures with photos, menus and crew details and will continue to do so until we find the perfect match for you in terms of size, style & budget.
If you have firm dates in mind we'll confirm availability with the owner and place a courtesy hold on your dates whilst your charter agreement is prepared and signed. It's a good idea to have a second choice in mind, especially for busy holiday periods when yachts book up quickly.
We recommend booking your charter at least six months in advance to ensure that we secure your preferred yacht. Some of the most sought after yachts will book one year in advance for certain weeks or events. It is always possible to accommodate last minute bookings however we do recommend booking as early as possible to avoid disappointment.
Twice a year we personally inspect the yachts and spend time with the crew to ensure that we are representing only the very best.
When to go
The high season runs from mid-December through mid-April and during the annual St. Lucia Jazz and Carnival events.
December and January are the coolest months, and June through August are the hottest. Substantial rain (more than just a tropical spritz) is more likely from June through November.
In April, the St. Lucia Golf Open is an amateur tournament at the St. Lucia Golf Resort & Country Club in Cap Estate.
St. Lucia Jazz in early May is the year's big event; during that week, you may have trouble finding a hotel room at any price, however a yacht charter is an excellent option & the festival could be a great start or end to your yacht charter.
The St. Lucia Bill fishing Tournament, which attracts anglers from far and wide, is held in late September or early October.
In late November or early December, the finish of the Atlantic Rally for Cruisers, the world's largest ocean-crossing race, is marked by a week of festivities at Rodney Bay.
Planning a sailing vacation in the Caribbean ?
We're the experts in luxury yacht charters throughout the Caribbean. From the British Virgin Islands (BVI) to the Grenadines, we have first hand knowledge of every yacht, every crew, and every anchorage. We're fully accredited members of the Charter Yacht Brokers Association which means you can book your charter with confidence.
More Caribbean Yacht Charter Destinations
Hint – If you're finding it hard to decide on a single destination why not enjoy a multi-island cruise ? Get in touch and we'll help you plan your perfect itinerary…

LUXURY CREWED YACHT CHARTERS IN THE CARIBBEAN
"I just wanted to thank you for the greatest trip of a life time!!
This trip out did our greatest expectations! The crew was amazing, tailoring to our every wish. The food was above 5 star and it was incredible to us how this could be accomplished with such a small kitchen. Each day was better than the next and we have never been more relaxed in our lives. If anyone ever needs a reference please do not hesitate to have them call us. I hope one day we can take this trip again.
Let Us Arrange the Yacht Charter Vacation of a Lifetime
Charter with confidence – Independent Yacht Charter is a member of the Charter Yacht Broker Association.