3 SISTERS
$12,200 - $16,000 / WEEK
---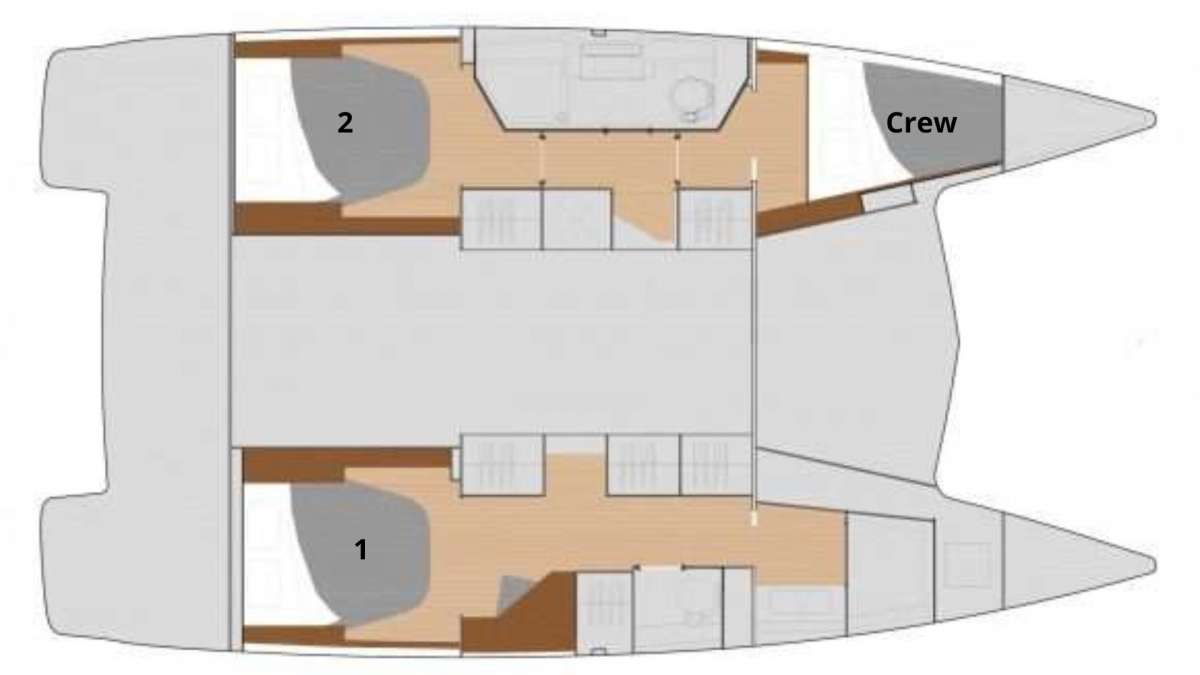 Boat Details
| | |
| --- | --- |
| Cabins: | 2 |
| Queen: | 2 |
| Single Cabins: | 1 |
| Showers: | 2 |
| Wash Basins: | 2 |
| Heads: | 2 |
| Electric Heads: | 2 |
Pick Up Locations
| | |
| --- | --- |
| Pref. Pick-up: | Yacht Haven Grande |
| Other Pick-up: | Red Hook |
---
Details
| | |
| --- | --- |
| Refit: | - |
| Helipad: | No |
| Jacuzzi: | No |
| A/C: | Full |
Engine Details
2x 35hp Volvo
Fuel Consumption:
-
Cruising Speed:
-
Max Speed:
-
Locations
| | |
| --- | --- |
| Winter Area: | Caribbean Virgin Islands (US) |
| Summer Area: | Caribbean Virgin Islands (US) |
---
Amenities
| | |
| --- | --- |
| Salon Tv/VCR: | Yes |
| Salon Stereo: | Yes |
| Sat Tv: | - |
| # of Videos: | - |
| # DVDs/Movies: | No |
| # CD's: | Yes |
| Camcorder: | No |
| Books: | No |
| Board Games: | No |
| Sun Awning: | No |
| Deck Shower: | Yes |
| Bimini: | Yes |
| Water Maker: | Yes |
| | |
| --- | --- |
| Special Diets: | Yes |
| Kosher: | Inq |
| BBQ: | Yes |
| # Dine In: | Yes |
| Minimum Age: | None |
| Generator: | Yes |
| Inverter: | Yes |
| Voltages: | 110 V |
| Water Maker: | Yes |
| Water Cap: | - |
| Ice Maker: | Yes |
| Sailing Instructions: | no |
| Internet Access: | Onboard WIFI |
| | |
| --- | --- |
| Gay Charters: | Yes |
| Nude: | Inq |
| Hairdryers: | Yes |
| # Port Hatches: | Yes |
| Guests Smokes: | On aft scoop steps only |
| Crew Smokes: | No |
| Pets Aboard: | No |
| Pet Type: | - |
| Guest Pets: | No |
| Children Ok: | Yes |
| Hammock: | Yes |
| Windscoops: | No |
---
Water Sports
| | |
| --- | --- |
| Dinghy size: | 10' ab |
| Dinghy hp: | 20 |
| Dinghy # pax: | 6 |
| Water Skis Adult: | No |
| Water Skis Kids: | No |
| Jet Skis: | No |
| Wave Runners: | No |
| Kneeboard: | No |
| Windsurfer: | No |
| Snorkel Gear: | Yes |
| Tube: | No |
| | |
| --- | --- |
| Scurfer: | No |
| Wake Board: | No |
| Kayaks 1 Pax: | No |
| Kayaks (2 Pax): | No |
| Floating Mats: | Yes |
| Swim Platform: | No |
| Boarding Ladder (Loc/Type): | Yes |
| Sailing Dinghy: | no |
| Beach Games: | No |
| Fishing Gear: | Yes |
| Gear Type: | Trolling |
| Rods: | 2 |
MEET YOUR CREW

Austin has always had a love for the water. Growing up on a lake in rural North Carolina and spending his summers in Charleston, South Carolina where he grew his enthusiasm for the outdoors and boating. After many years spent on the inland waters of the east coast, he decided to take this passion to another level. During college he took a summer break to attain his skippers license through the RYA in Cape-town, South Africa. He finished up his environmental studies degree at the University of Colorado and moved back to Charleston where he continued his outdoor adventures particularly yachting. He served as an assistant dock master at a local yacht harbor and in his free time sailed several different vessels both power and sailing. During this time, he also obtained his USCG Masters 100ton license.

Austin has always been what his Friends describe as personable, fun loving, and enthusiastic in his endeavors. Growing up he built relationships with people through the hospitality side of his family. He loves to tackle things head on and has always had an adventurous spirit such as camping, sailing, fly fishing, and backpacking. His love for hospitality and adventure are what brings him to the Caribbean islands. Hoping to share his love for these things while making new lifelong relationships.

Austin's second passion is hospitality, growing up in a family that owns and operates a hospitality group. He can't wait to combine these two passions chartering in the Caribbean.


Leah is a bubbly, easy going girl who grew up in the Central Valley of northern California. Spending most of her summers in Santa Cruz, she loves to spend her time doing all things outdoors, while also setting some time aside for a quick dip in the ocean.

Leah comes from an Italian background and grew up with the importance of social gatherings and good food. She has been cooking in the kitchen with her family since she was little, from following her family pasta sauce recipe step by step, to other well-kept delicious secrets.

She attended the University of Colorado at Boulder majoring in Biology, and this is where she met Austin. She immediately took advantage of skiing, hiking, and camping. While Leah took various types of science courses at Boulder, she realized she had picked up a profound love for nutrition and learning to cook for various diets and preferences!

She has recently become a Certified Nutrition Consultant, accredited by AFPA (American Fitness Professionals Association). She has also attended Ashburton Academy for a Certificate in Culinary Arts, as well as a Level Two Award in Cookery Skills in England.

Quality hospitality is as important to them as the plated food presented to you. With Leah's nutrition, cooking skills and Italian family culture and Austin's family hospitality background and yachting skills they look forward to sharing their love for the water, knowledge of the environment, they hope to encompass all their past experiences to create lasting relationships and a hospitable, yet adventurous experience for all guests in the Caribbean.

(15 December -30 April)
Caribbean Virgin Islands (US)
(1 May - 14 December)
Caribbean Virgin Islands (US)
| | | | | | | | | | | | | | | | | | | | | | | | | | | | | | | | |
| --- | --- | --- | --- | --- | --- | --- | --- | --- | --- | --- | --- | --- | --- | --- | --- | --- | --- | --- | --- | --- | --- | --- | --- | --- | --- | --- | --- | --- | --- | --- | --- |
| Aug 2022 | 1 | 2 | 3 | 4 | 5 | 6 | 7 | 8 | 9 | 10 | 11 | 12 | 13 | 14 | 15 | 16 | 17 | 18 | 19 | 20 | 21 | 22 | 23 | 24 | 25 | 26 | 27 | 28 | 29 | 30 | 31 |
| Sep 2022 | 1 | 2 | 3 | 4 | 5 | 6 | 7 | 8 | 9 | 10 | 11 | 12 | 13 | 14 | 15 | 16 | 17 | 18 | 19 | 20 | 21 | 22 | 23 | 24 | 25 | 26 | 27 | 28 | 29 | 30 | |
| Oct 2022 | 1 | 2 | 3 | 4 | 5 | 6 | 7 | 8 | 9 | 10 | 11 | 12 | 13 | 14 | 15 | 16 | 17 | 18 | 19 | 20 | 21 | 22 | 23 | 24 | 25 | 26 | 27 | 28 | 29 | 30 | 31 |
| Nov 2022 | 1 | 2 | 3 | 4 | 5 | 6 | 7 | 8 | 9 | 10 | 11 | 12 | 13 | 14 | 15 | 16 | 17 | 18 | 19 | 20 | 21 | 22 | 23 | 24 | 25 | 26 | 27 | 28 | 29 | 30 | |
| Dec 2022 | 1 | 2 | 3 | 4 | 5 | 6 | 7 | 8 | 9 | 10 | 11 | 12 | 13 | 14 | 15 | 16 | 17 | 18 | 19 | 20 | 21 | 22 | 23 | 24 | 25 | 26 | 27 | 28 | 29 | 30 | 31 |
| Jan 2023 | 1 | 2 | 3 | 4 | 5 | 6 | 7 | 8 | 9 | 10 | 11 | 12 | 13 | 14 | 15 | 16 | 17 | 18 | 19 | 20 | 21 | 22 | 23 | 24 | 25 | 26 | 27 | 28 | 29 | 30 | 31 |
| Feb 2023 | 1 | 2 | 3 | 4 | 5 | 6 | 7 | 8 | 9 | 10 | 11 | 12 | 13 | 14 | 15 | 16 | 17 | 18 | 19 | 20 | 21 | 22 | 23 | 24 | 25 | 26 | 27 | 28 | | | |
| Mar 2023 | 1 | 2 | 3 | 4 | 5 | 6 | 7 | 8 | 9 | 10 | 11 | 12 | 13 | 14 | 15 | 16 | 17 | 18 | 19 | 20 | 21 | 22 | 23 | 24 | 25 | 26 | 27 | 28 | 29 | 30 | 31 |
| Apr 2023 | 1 | 2 | 3 | 4 | 5 | 6 | 7 | 8 | 9 | 10 | 11 | 12 | 13 | 14 | 15 | 16 | 17 | 18 | 19 | 20 | 21 | 22 | 23 | 24 | 25 | 26 | 27 | 28 | 29 | 30 | |
| May 2023 | 1 | 2 | 3 | 4 | 5 | 6 | 7 | 8 | 9 | 10 | 11 | 12 | 13 | 14 | 15 | 16 | 17 | 18 | 19 | 20 | 21 | 22 | 23 | 24 | 25 | 26 | 27 | 28 | 29 | 30 | 31 |
| Jun 2023 | 1 | 2 | 3 | 4 | 5 | 6 | 7 | 8 | 9 | 10 | 11 | 12 | 13 | 14 | 15 | 16 | 17 | 18 | 19 | 20 | 21 | 22 | 23 | 24 | 25 | 26 | 27 | 28 | 29 | 30 | |
| Jul 2023 | 1 | 2 | 3 | 4 | 5 | 6 | 7 | 8 | 9 | 10 | 11 | 12 | 13 | 14 | 15 | 16 | 17 | 18 | 19 | 20 | 21 | 22 | 23 | 24 | 25 | 26 | 27 | 28 | 29 | 30 | 31 |
---